Timber has always been an interesting asset class for wealthy people this comes with some reasons: stable long term returns, diversification in terms of inflation. At frist glance investmenst into forest in asia makes in general sence to fight the pollution issue. The markets in asia still have a long term growth perspective and further incentive systems with financial benefits for the investors are highly possible.
The investment objective of the currently first time fundraising Asia Renewable Resources Fund is to achieve long term capital growth through investment in high value forestry assets and land opportunities to develop sizeable returns from forestry operations. The Asia Renewable Resources Fund may also invest in transferable securities to enhance liquidity and diversification.
The Asia Renewable Resources Fund will target annual total returns equal to or greater than the S&P Forestry index.
(WOOD — S&P Global Timber and Forest Index (NASDAQ:WOOD) – seeks investment results that correspond generally to the price and yield performance, before fees and expenses, of the S&P Global Timber & Forestry Index (the "Underlying Index"). The Underlying Index is comprised of approximately 25 of the largest publicly-traded companies engaged in the ownership, management or upstream supply chain of forests and timber lands. These include forest products companies, timber real estate investment trusts, paper products companies, paper packaging companies and agricultural products companies.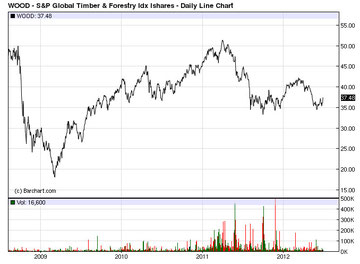 A snapshot of the Team:
The founder of the Fund, Mr Andrew Steel has impressive credentials. After 13 years in the Royal Navy, he left to work in Sri Lanka's energy and forestry sectors. As well as being CEO of the Treedom Group, a team of specialist investment advisers in the renewable resources sector, he also founded a reforestation charity called Plant a Tree Today (PATT) Foundation. He will also be awarded a honorary Doctorate by Hull University in the UK for his work with PATT and Services to the Enviroment.
Investment committee member:
PisitJeungpraditphan, has been the Fund Manager and Head of Research at Siam Knight Fund Management Securities Co., Ltd. since 2006 and previously worked as an investment banker and analyst at IV Global Securities PLC from 2003-2005. Mr. Jeungpraditphan also worked at Access Capital, and Abacus Equity Partners from 1999-2002. Mr. Jeungpraditphan is currently a CFA charterholder and CAIA designee.
Mr. Jeungpraditphan is a founder and society leader of the CFA Society in Thailand. He speaks Mandarin, Thai and English fluently. Pisit'sspecialities are private fund management, fund raising alternatives, Merger & Acquisition, and financial advisory. Pisit brings substantial finance, due-diligence and management expertise to the investment committee.

Why they believe in the market?
The fund mentioned the following reasons:
1. Investments in timber by large institutional investors and endowment funds have increased significantly in the last few years. Forestry is now a widely accepted asset class.
2. Returns can be further enhanced by diversifying into species such as Agarwood which after refinement produces Oudh oil, a highly valued and natural product used in the cosmetic and perfume industries.
3. The increased interest is driven by its behaviour as an asset, with stable returns and low correlation to traditional financial assets such as equities, fixed interest and other risky assets.
4. Land prices in the US, Canada, Europe, Australia and New Zealand have risen strongly in recent years and many forestry projects in those countries look overbought (decreasing forward-looking return potential). By contrast Asian emerging markets such as Thailand, Laos and Cambodia offer better land price value and lower labour costs.
5. Timber and forest investment returns are driven by three factors: biological growth, changes in timber product prices and changes in land prices.
6. Biological growth is considered to be the most significant factor contributing over 60% of the total return.
7. Asian forestry is also ideally located to meet the needs of the two most significant growing markets for forestry products: China and India.
8. Timber price changes contribute approximately 30% of the total return. They are affected by macroeconomic variables such as GDP, house-building, construction spending, interest rates, and population growth. Timber prices, historically, have risen 3% above the rate of inflation. During periods of high inflation, timber and forestry investments can act as an inflation hedge and provide capital preservation.
9. The long-term industry outlook for timber and forestland investment remains strong as the global demand for wood and paper products continues to exceed supply. The United Nations Food and Agriculture Organization previously estimate that the world consumption of timber and forestry-related products will rise more than 50% by 2030.
To put it into a nutshell the story looks favourable (if the above stated points are emperically proven) the team seems to be specialized and highly skilled. The market surley offers interesting investment opportunties.  A key issue for them will be from my limited perspective the fundraising, because it looks like they do not have a long term track record, which makes it difficult to get the first LPs on board.
Before investing I would consider a closer look at the incentive systems.
Do they get carry? 
Finally I would have to learn a lot about the asian timber market. This article might be the first step. 
What is  your opinion about it?
Does timber as an asset class makes sence for you?
What do you think about the team?