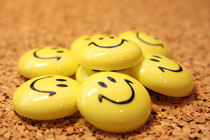 In his book the art of happiness at work a key idea is that happiness comes from the inside and critical self-reflection is always a question of perspective. Or as a good friend of mine recently ended our discussion about happiness "if you want to be happy, be happy that's it".  So before working hard just for the money think about increasing your happiness and life satisfaction by doing a few weeks development work with miserable people (decreasing your reference group). That will make you more happy and thankful for your own circumstances and the effect might last longer than the keeping up with the Jones.  Altruistic things will have stronger contribution to life satisfaction than short-term happiness. According to Viktor Frankl happiness is a double-edged sword and the other side is responsibility: It is not just about happiness but also about responsibility not just for yourself but also for others.
There are many things we can learn from the Dalai Lama. One of the facts I still remember from his book is a meeting with all kind of powerful people in Washington.
Before the Dalai Lama enters the room everybody was walking around and talking to each other with the question in mind like: what can he do for me? What is my rank relative to him? Powerful people felt very important and young guys around were looking up to them full of ambition. More or less like every lobbying or meeting of powerful people. Then the Dalai Lama arrived. Like always he treaded everybody equal and was interested in  the people and their problems. By the end of the evening the whole room was gathered around the Dalai Lama and eagerly in discussion about the world problems and how to tackle them.
In conclusion to all the powerful people if you want become happy start from the inside and start to take real responsibility for others!
For all the others:
"If you think you are too small to make a difference, try sleeping with a mosquito."
― Dalai Lama XIV